How The Feminine Full Moon In Virgo Affects Your Zodiac Sign Starting On February 27-28, 2021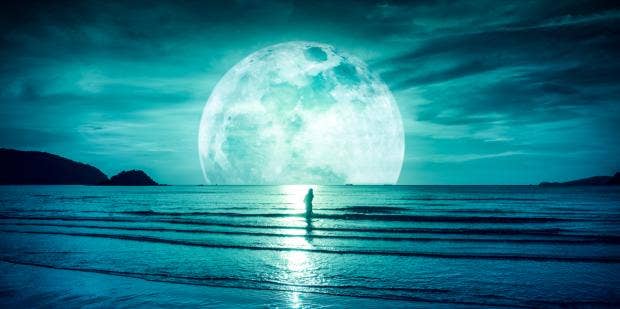 Your zodiac sign may feel the effects of the February Full Moon in your horoscope which takes place at 19 degrees Virgo, especially if you have any planets in mutable signs (Gemini, Virgo, or Pisces).
The Full Moon in Virgo will take place on February 27-28, 2021, and its energy is mutable, soft-natured, and feminine.
The Full Moon phase occurs at the peak of the moon cycle, and it shines a light on what is hidden both literally and metaphorically.
Emotions and the inner self are controlled by the Moon and are heightened in their full phase.
There is an acute awareness that comes with the Full Moon; ideally, opening your eyes to what you may have previously ignored or not known of.
This Full Moon resides in Virgo, which is the symbol of the Virgin. Virgo is detail-oriented, adaptable, practical, and honest. Simultaneously, this Full Moon is opposite the Sun which is in Pisces, which is also spiritual, feminine, and kind.
Pisces and Virgo are sister signs — they lie opposite each other on the zodiac calendar — making them similar in some ways but complementary opposites in many others.
This is a time for balance — a balance between being idealistic (Pisces) and practical (Virgo), acceptance (Pisces) and criticism (Virgo), emotions (Pisces), and rationality (Virgo).
Here is your zodiac sign's feminine Full Moon in Virgo horoscope, and how it affects you, according to astrology.
Aries (March 21 – April 19)
Aries, all of the opposition during this Full Moon may put you into a state of confusion. You prefer matters to be clear and black and white.
However, the Full Moon is meant to also bring clarity (I know, more opposition here), so make sense of things in your own way.
Inwardly reflect as the Moon prompts you to do, then outwardly express your findings as is customary for you.
Taurus (April 20 – May 20)
Taurus, you are an earth sign like Virgo, so the practical energy feels comfortable for you.
Bring that practicality to your emotions to make some sense of them and bring you peace.
Open up to others about these emotions; having a sounding board could be useful and will also nurture your relationships.
Gemini (May 21 – June 20)
Gemini, the revelations brought about by this Full Moon are mentally stimulating for you.
Finding the balance between the Virgo Moon and the Pisces Sun is like a puzzle. When you do solve it, it will create a beautiful picture.
Cancer (June 21 – July 22)
Cancer, balancing your water sign strong emotions with Virgo's earthy practicality is just what you need at this time.
Your emotions are valid, but meeting them in the middle with some logic will keep you from being too impulsive.
Any queries you may have in your life now is the time to answer them with a level head while staying true to your heart.
Leo (July 23 – August 22)
Leo, you are an expert at outward expression. Now is the time to balance it with some inward reflection.
Think about what you truly want in life so that you don't wander around aimlessly.
Think about how you affect others so that no one's feelings are accidentally hurt.
Virgo (August 23 – September 22)
Virgo, the Moon is in your sign right now. Bask in these resonant energies.
However, also keep in mind the opposing energies from the Sun in your sister sign.
It will soften some of your edges, break you free of some of your rigidity.
Letting imagination and intuition into your world of rules and reason can bring you to a harmony that will open your mind to possibilities you hadn't thought of before.
Libra (September 23 – October 22)
Libra, you are the sign of balance, so these sister signs ruling the Moon and the Sun right now are bringing you great satisfaction.
Take time for yourself, but also grace your brilliance upon others. Know when to stretch your boundaries versus keeping them firm.
This Full Moon is a time to take some action because you thrive under these harmonious energies.
Scorpio (October 23 – November 21)
Scorpio, you trust your intuition because it is often right. But, the Moon in Virgo is urging you to think deeper before acting purely upon emotion.
If you allow reason into the equation then you won't make any hasty decisions or jump to conclusions.
Now is a time to do some reflecting and correct any past mistakes that still burden you.
Sagittarius (November 22 – December 21)
Sagittarius, both the Virgo Moon and the Pisces Sun are prompting you to slow down.
You are quick to move from thing to thing, but taking time for yourself to think and reflect instead will guide you to the best journeys to pursue.
You may think that making yourself idle sounds boring, but it will bring you a new appreciation to the present moment and let you discover new things about yourself.
Capricorn (December 22 – January 19)
Capricorn, the Virgo Moon is prompting your similar strengths of reason and structure.
However, the Pisces Sun wants you to stretch out of your comfort zone a little and allow for some chaos and emotion without reason.
Take this time to find a balance between the two because one of these sides isn't better or worse than the other, they're just different ways of approaching things.
Allowing yourself to try things a different way while still keeping to your norm in some aspects will get you to a balanced perspective.
Aquarius (January 20 – February 18)
Aquarius, the Virgo Moon may feel confining to your free, air-element nature. But no one is trying to cage you.
Bringing you down to earth a little will allow you to solve problems in a realistic way so that the desired results are actually attainable.
Even though the Pisces Sun may feel a bit too touchy-feely for you, being more attuned to your emotions as well as others' emotions will make whatever journey you are on a more peaceful and happy one.
Pisces (February 19 – March 20)
Pisces, although the Moon is in your opposing sign, the Sun is in your sign.
These two forces are trying to bring a balance to your life to create more awareness and make those idealistic dreams of yours more attainable.
It is great that you have your head in the clouds, just don't forget to have your feet on the ground.
Trending on YourTango:
Colleen Fogarty is a writer who covers astrology, self-care, and relationship topics.
Published at Sat, 20 Feb 2021 22:00:04 +0000